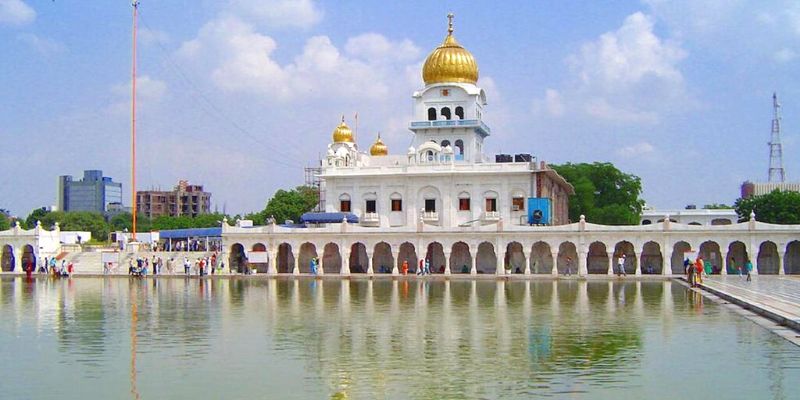 Delhi Tours, Delhi spiritual sites tour by car
Our Spiritual Delhi Tours is a very unique tour that will allow you to discover another side of India, through the prism of its spiritual diversity. It will give you a priceless knowledge of some of the numerous religions in India and you will indeed be able to witness the adage of India "Unity In Diversity".
As you may already know, Delhi is the capital of India, as well as a very metropolitan city. But even though the city is buzzing and seems to always be very busy, you will be surprised to discover an impressing calmness while visiting some of the main spiritual sites of the city with our professional tour guide, who knows every single streets of the capital by heart. Throughout the entire tour, you will be driven around with an air conditioned private car and a private driver.
The major attractions during this Tour will be the visit of Sufi Shrines, ancient Mosques, Sikh Temples called Gurdwaras and Hindu Temples.
Keep your mind ready and open your eyes; no doubt that this Spiritual Delhi Tours will make your trip memorable!
Private round trip by air conditioned car with pick up and drop off at your desired location in Delhi.
Skip the stress of navigating by letting someone else drive for you.
Private tour with just you and your people.
Explore the cultural sights of Delhi
A professional native tour guide, who will make sure that you won't miss any exclusive anecdote or secret of the city.
Enjoy your lunch in a good restaurant.
1. Akshardham and Lotus Temple are closed on every Monday in Delhi.
2. Please note that it's not allowed to carry any leather wearing stuffs, eatables, smoking items, fire, flags, banners, music instruments, tripods etc while in the monuments area.
3. We are not allowed to make a entry with shorts As we will visit some religious places.
4. It is mandatory to carry and keep the national ID documents of each participant of the tour either physically or in your phone.
5. Before entering the attractions, please avoid purchasing anything from the hawkers, vendors, and street sellers due to security reasons at the entrance.
6. Please do not carry any suitcase, baggage and big bag full of all kind of stuff.
You will be picked up by our driver at 09:00 AM from your desire location(Hotel,Railway Station and Airport) in Delhi. On the way, our Experienced tour guide will be introduced you, who is native of Delhi , will make sure that you won't miss any exclusive anecdote of secret of the city. You will complete this tour in two sides of the city Old and New Delhi.
You will start your tour from impressive Mosque Jama Masjid, One of the famous market Chandani Chowk, and also have an experience of local Rickshaw ride and get an opportunity to click the best photos of the city. You will be taken to the lunch in a good restaurant. After the lunch, You will continue the tour and now you will visit the famous attractions such as Lotus Temple, Gurudwara Bangla Sahib, Akshardham Temple and Chatarpur Temple, which is a Hindu Temple, built in South Indian style.
After the Delhi Tours, you will be dropped at your desired location in Delhi.
We hope that you will have a wonderful experience and that we will see you soon in future through our company Super India Tour.
Only transport and Tour Guide
More prices are available on request.
Frequently Ask The Question